Elex helps keep electricians up-to-date with the latest technical updates and new rules and regulations, including the 18th Edition. Each show has an extensive seminar schedule, packed with practical information and guidance. All the sessions are presented by leading industry experts and explore key issues facing electricians today. There's no need to pre-book, just pre-register to attend the show.
The free technical seminars are accredited for Continuing Professional Development (CPD).
The IET are proud to be the headline sponsor of ElexShow again in 2022
THURS: 10.30–11.00


FRI: 9.30-10.30




BS 7671 AMENDMENT 2 CONSUMER UNIT DESIGN CONSIDERATIONS
Following the recent significant changes to BS 7671:2018+A2:2022, join this seminar to learn what you need to know to stay compliant and ahead of the game. Topics will include: RCD unwanted tripping, Rated diversity factors, SPDs, Assembly requirements for Solar PV, EV charging supplies, AFDDs.
Presented by NAPIT JPEL 64 experts, with support from a panel of manufacturing experts.
 
THURS: 11.15–11.45


FRI: 10.15-10.45




IET INDUSTRY FORUM
Electrical Installation Condition Reports – Recent legislation requires that private rented dwellings are inspected every 5 years – and there's more legislation on the horizon which is intended to cover dwellings in the social rented sector. In this session, the Panel will discuss: The Purpose of an EICR, Model Forms, Sampling, Observations, Frequency of Inspection & Testing and Coding

Presented by IET
 
THURS: 12.00-12.30
FRI: 11.00-11.30
MAINTAINING LIGHTING LEVELS

Jake and Tim will be discussing the need to maintain lighting levels should there be a power failure and how as a contractor, you can best comply with BS5266 and the associated standards.

Presented by OVIA
 
THURS: 12.45–13.15
FRI: 11.45-12.15


HOW TO CODE THE OBSERVATIONS FOUND DURING EICR'S UPDATED FOR 2023
This interactive debate and lively discussion has been updated for 2023 to align with BS 7671:2018+A2:2022. Using real world examples, come along to find out how deal with the problems encountered when coding observations found while carrying out EICRs.

Presented by NAPIT JPEL 64 experts.
 


THURS: 13.30–14.00


FRI: 12.30-13.00


IET INDUSTRY FORUM
Generators – With rising energy costs, consumers are turning to local generation for their power needs. In this session, the Panel will discuss: Types of Generators, Labelling alternative or additional supplies, Earthing arrangements, Manual/automatic changeover, Configurations, Generators in parallel and Direction of current flow for PV systems

Presented by IET


THURS: 14.15–14.45


FRI: 13.15-13.45


SURGE PROTECTION FAQs, INCLUDING PV & EV CONSIDERATIONS
Surge Protection Devices will be discussing the frequently asked questions they receive surrounding surge protection and the requirements in BS7671. This will include a closer look at the considerations on using SPDs within solar PV and EV charger installations. 

Presented By Surge Protection Devices
THURS: 10.45–11.15




FRI: 9.45-10.15




WHEN TO REFERENCE PART 7 OF BS7671
Special locations are a big part of the requirements that often do not get referenced by contractors. Jake and Tim will be discussing when to use Part 7 – Special locations of the regulations within specific installations.
 
Presented by Click

*THURS: 11.30–12.00
 

RAISING STANDARDS AND COMPETENCE IN THE ELECTROTECHNICAL INDUSTRY
As the industry moves towards ensuring qualified workers on their jobs to promote a safer working and higher productivity (and compliance with Building Regulations), Andy Reakes will explain more about how ECS is working with industry to raise the bar and how ECS cardholders can demonstrate their training and hard-earned credentials. He will also address some of the frequently asked questions which people have when applying for or renewing their card.
Presented by Electrotechnical Certification Scheme/Joint Industry Board
*FRI: 10.30-11.00
SECURING THE FUTURE FOR YOUR BUSINESS THROUGH JIB MEMBERSHIP
JIB membership offers electrical contractors not only an industry recognised employment package but also a range of cost savings and other benefits designed to support your business. Roger Horne will discuss the benefits which JIB membership offers and address the reasons why it offers security for the future for you and your staff.
Presented by Joint Industry Board

THURS: 12.15–12.45
FRI: 11.15-11.45
 HOW EV CHARGEPOINT INSTALLATION CAN BOOST YOUR REVENUE STREAM

 
The electric vehicle market is accelerating at a phenomenal pace, including the demand for chargepoints at homes, workplaces, and other public locations. This FREE seminar provides qualified electricians with an introduction to the industry and how they can benefit from it.
Presented by Rolec
THURS:13.00–13.30


FRI: 12.00-12.30


GROWING YOUR PROFITS
When you're busy managing all aspects of your business, it's not always easy to balance overheads and profit growth. Fergus Software's 'Growing Your Profits' talk will give you all the advice you need to ensure you run a profitable business, with actionable steps to keep you on track.
Presented by Fergus
THURS:13.45–14.15


FRI: 12.45-13.15
FOCUS ON AFDDS

AFDDs were introduced as a recommendation with the publication of the 18th edition Amendment 2 mandates their use for certain circuits with specific building types. This seminar looks at the practical implications of designing, installing, testing, certification and fault diagnostics using these devices.
Presented by Hager with support from NAPIT JPEL 64 experts
 
THURS: 14.30-15.00
FRI: 13.30-14:00
CODING FOR EICRs
Following on from this morning's session in the iET Forums the IET will discuss coding for EICRs.
Presented by IET
* Only on for one of the two days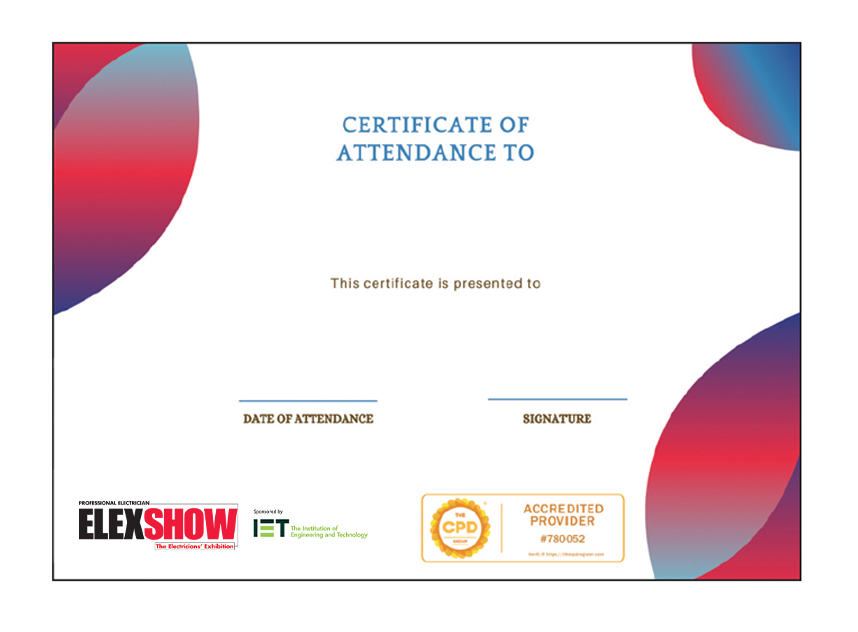 CPD ACCREDITED
All sessions are accredited for Continuing Professional Development (CPD).
To help you record and update your Continuing Professional Development (CPD) personal record, all sessions at the seminar area are now CPD accredited.
All you have to do is scan a QR code at the seminar to get your free CPD certificate of attendance.